The History of T.Guntrip Ltd.
London's Oldest Established Bookmakers
John McCririck recalls 100 years in the life of a family bookmaking firm
This article below from The Sporting Life was written in 1982 for the company's centenary.
When farmer Tom planted the seed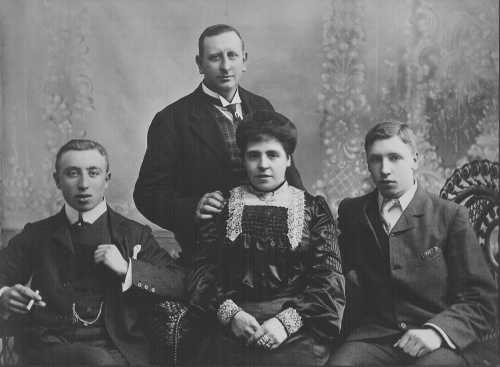 Farmer Tom Guntrip with his family, Jack (left), wife Eva and stepson Alf Magrath
It was farmer Tom Guntrip who first planted the idea that has now grown into a betting tradition. While delivering milk, meat and vegetables to shops and public houses back in the 1880s, he began accepting small bets in a wide area around South-East London.
He also owned the Park Hotel in Bellingham near Catford, and so many customers wanted to bet that a number of rooms were set aside as offices. Business flourished, and in 1882 the firm of T.Guntrip was officially established. A time when carrier pigeons were used to convey the result of the Derby.
Tom's son, Jack and stepson, Alf Magrath, then joined in until Alf left to fight in the First World War. Jack was injured on the farm and was excused forces duty. When Alf returned, telphones were installed and credit accounts were opened.
Jack died in 1923, leaving three young sons, Tom, John and Geoffrey. A few years later, Old Tom Guntrip also died. Alf continued to expand the business with a loyal staff, one of whom, Mrs. Bowman, is still there.
Young Tom Guntrip joined Alf in 1935 breaking off between 1939 and 1945 to serve in the Second World War. With the war over, Tom returned to the firm and business became so big that they vacated the hotel and moved to premises in Bromley Road, Catford, where they still are today (1982). John and Geoff also joined the team, along with Alf's daughter Mollie.
The staff was increased to 120 and up to 60 telephone lines were installed.
Alf retired in 1972, leaving the third generation of Guntrips to carry on. Now the fourth generation has arrived - Tom's son, Paul, joined in 1973 and Geoff's son Martin in 1981. Tom retired in 1980 and John retires later this year.
Guntrips not grousing after 100 years in the field
Guntrips, London's oldest established bookmakers, have been "milking" punters for 100 years! Wait a minute. Perhaps I haven't put that quite right. Are they in fact "London's oldest established bookmakers" and, anyway, what's this about "milking" their clients?
That's the easy question. Tom Guntrip, grandfather of the present triumvirate of Guntrip brothers who control the deliberately old-fashioned, family firm, was a 21-year old Brixton Hill dairyman in the early 1880s. Doubtless on his daily round he accomodated customers in their betting needs. Being a sensible farmer-type he must soon have realised that this was an easier way of earning a crust than humping milk churns around on his cart.
So in 1882, the exact date is unknown, he set himself up as a bookmaker, as well. He stood in Hyde Park, pinning his prices on trees. Meanwhile, down on his farm in the Catford countryside, pigeons were trained to home in with the racing results and one Derby Day the wretched bird at Epsom got stuck in the loft and for a frantic hour the vital news was lost amid flying feathers. Pigeons, nevertheless, were Tom's trusted messengers and when, years later, telephones became accepted he was set against installing them.
When he did relent, the first bet laid was a 20-1 winner and he grumbled: "I always told you these new-fangled things were no good!" That characteristic resistance to change by the bluff, champagne-quaffing dairyman never deserted him and it has dominated the business throughout the century.
In 1910, betting was going so well that Tom rented two rooms in the now-demolished Park Hotel in Bromley Road, over the dairy alongside his leased farm. After the first war, Tom's son Jack took over. The local paper described him as a "quiet, hard-working man who was one of the first people in the area to own a coveted black Austin."
Jack was joined by Tom's stepson Alf Magrath, known locally as A.J.Guntrip, a Camel Corps veteran of the Egyptian campaign. When Jack died aged only 38, in 1924, "A.J." was Guntrips, and he controlled the business until 1962.
That was the heyday period of the street bookmaker. Guntrips had the lucrative Smithfield Market concession with clockbags, plus postal bets and a boom in telephone credit accounts. In 1960, the firm's Bromley Road office - they moved half a mile from the Park Hotel in 1943 - employed 120 staff with 60 telphones. They had approximately 14,000 credit clients and took 1,000 postal bets daily, besides the occasional ones pushed under the door.
Some 25 years earlier they handled just 50 accounts a week. Few industries boomed as much as bookmaking after World War Two. They were the golden days before betting shops came along.
Guntrips, with six street bookies on top of their office credit business, rivalled the legendary names of that era - Copes, Joe Lee, Duggie "We never owe" Stuart, McLauchlans and William Hill. McLaughlans probably led the market because it was only legal to send cash bets to Scotland. This proved unfortunate for me as housemasters used to seize those little brown envelopes with the tell-tale Glasgow postmark.
That was a period when after-timing was rife, postmarks were regularly tampered with but, as now-retired director Tom Guntrip, 66, says: "We couldn't pack up because all our competitors accepted postal bets."
A BPA director from 1962 to 1972, Tom explained how Guntrips missed out on the betting shop expansion in the early '60s. He recalled: "In 1961, when they were made legal we didn't think they would catch on as well as they did. Neither did William Hill or most of the other market leaders. We simply couldn't believe the old postal and credit pattern would be overtaken. The security side also worried us. We've never had managers, and we hated the street bookmaker side of the game which definitely influenced us against betting shops."
In those halcyon days, bookmakers were outdoing each other with tempting terms to punters. How different it is today! A quarter of the odds 1-2-3-4 in 12 runner handicaps wasn't the Guntrip way of doing business, though I don't remember punters winning fortunes then, either.

Paul, Geoff, Martin, Tom and John Guntrip
After 45 years as a director, Tom retired in 1980 and the middle brother John, 62, who started at Bromley Road after the war, is soon to follow him into retirement after "37 years of hard grind". He recalled: "I've never had a Saturday off, except for holidays and when my daughter got married. Even then I tried to get her to change the day to mid-week!"
The third brother, 60-year-old Geoffrey, lean and bespectacled like the others, was a Kent County tennis player in his sporting days. His knowledge of the summer game resulted in Guntrips becoming the first bookmaking firm to bet on Wimbledon in the early 1950s.
That, as it turned out, was one of the few innovations by Guntrips in a hundred years. Their customers prefer it that way!
All customers must pass scrutiny test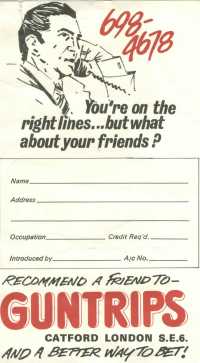 As many as 50 punters a week reply to the Guntrips advertisement in the Sporting Life - but only half are accepted as clients.
Back 20 years ago, Guntrips listed between 14,000 and 15,000 customers, a figure which is now down to around 4,000, but all closely hand-picked. References are strictly studied and high rollers should stay away. Bets of four and five figures will not be encouraged, though deposit account clients can start gambling once their cheques are cleared. Punters must stake a minimum of ?5 with every phone call. At least ?1 is required for singles and 30p in doubles.
So why bet with Guntrips rather than some other firm? Tom Guntrip says: "They can enjoy the personal confidential service of a courteous family business. If there are any queries, a Guntrip will look into it. Many of our customers like our weekly, hand written accounts. They can check off each bet. Defaulters though are the bane of credit betting. That's one liability betting shops don't have. Profits are 1.5 to 2 per cent of turnover and we could offer much better terms if we knew all the money would definitely come in."
The new Guntrip waiting to take over is Tom's son, Paul. After eight years of grooming, he fits in well. "What changes will you be introducing?", I asked. He looked at me puzzled. "That's not our way, you know," he replied, "The only changes we will make are to improve our service to clients - if possible."
And all three senior Guntrips nodded approvingly.
This ends the 1982 centenary article
---
Since 1982
Since the above article has written for the firm's centenary, the company has been amalgamated into Sunderlands of Croydon. Paul joined Sunderlands and was running their international operations in Malta until 2008. He is now retired. Geoff's son, Martin, left the business, when it was amalgamated, to further his career outside of bookmaking.
Tom died in January 2000. Geoff died in December 2009 and John died in May 2017 aged 98.
---
From 'The Licensed Bookmaker and Betting Office Proprieter' - February 1982
GUNTRIPS CENTURY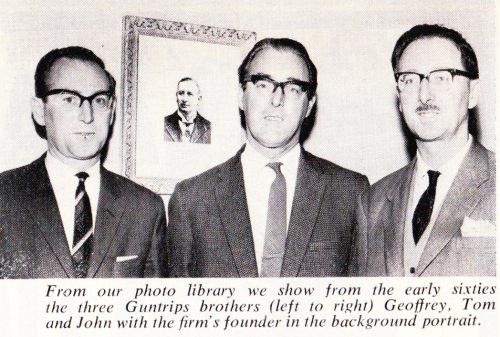 SOMETHING TO CELEBRATE headlined Guntrips advertisement in the Sporting Life early last month ... a Welcome note at a time when the racing industry had little cause for joy.
A raised glass of bubbly illustrated not the traditional New Year greetings, but that Guntrips' management and staff were celebrating the centenary of the noted South London firm. For it was exactly one hundred years ago that founder Tom Guntrip ordered a carriage and set off for Hyde Park with a clerk carrying a ledger and stool.
They got off at Marble Arch and walked to a spot about 200 yards south of Speakers Corner where London's off-course bookmakers assembled and joined them in offering odds on the day's events.
Newmarket was on that day, and results were sufficiently favourable for Tom to decide to make bookmaking his third occupation.
Proprietor of a successful dairy—"Fresh milk from our own farm in Streatham" — he had a second string to his bow as mine host of the flourishing Telegraph Hotel in Brixton Hill.
Tom later opened a credit office in Catford, Where he was able to offer his clients an exclusive race-by-race service by getting the results brought to him by pigeons returning to a loft on the roof.
When Tom Guntrip died in 1926 at the age of 71, he left behind the biggest betting business south of the Thames. His son John carried on, but unfortunately he passed away at a comparatively early age leaving his three sons Tom, John and Geoffrey to carry on and expand the family business.
They observed a strict rule. No matter what the hour, day or evening, a Guntrip had to be on the premises during racing underlining the personal service expected of a family firm.
Like other great names in credit and postal betting, Guntrips steered clear of betting shops, preferring to concentrate during the early years of legalisation on their credit, postal and trade hedging business. They remain so to this day.
A pity perhaps, but with so many larger chains losing the touch of personal direction as they expand into High Street retail bookmaking, it can be argued that the emphasis on individuality associated with Guntrips' telephone credit service is right for the company and for betting in particular.
Now well into their sixties, the three brothers Guntrip can be truly proud of the standing their firm has in sporting circles. As I was privileged to write, many, many years ago, the very name Guntrips is symbolic of courteous treatment, unquestioned integrity and fair play.
Tom, the eldest, has called it a day, but John and Geoffrey carry on giving punters throughout the UK a racing service to the impeccable standard set by their grand-father back in 1882.
AJS
---
Example of a postal betting scam from 1910
Click on this link to view the Old Bailey proceedings from September 1910 when a postal betting scam was attempted against Guntrips and foiled. (Adobe PDF document).
---
T.Guntrip Ltd. Annual Dinner

A photograph from the firm's annual dinner circa. 1946
---
T.Guntrip Ltd - Promotional material


Race Horse and Greyhound Playing card sets


Diary
Newspaper advertising
(click on ads to enlarge)